About Us
The strength of Tranquil Waters is based upon an extensive nautical background spanning thirty four years, seventeen of which were spent at sea. During most of his nautical career, Mr. McCann has served as both captain and engineer of numerous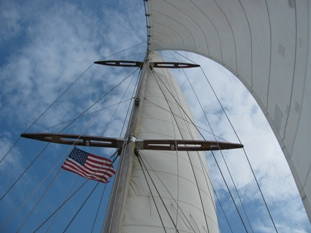 research vessels. Their size and composition have included various fiberglass, wooden, steel and aluminum vessels from 40 to 127 feet in length. This diversity of hull construction has provided an understanding of the structural integrity relating to the various building techniques.
Donald McCann is  an Accredited Member of the Society of Accredited Marine Surveyors– AMS ® SAMS, and is Standards Accredited by the American Boat and Yacht Council (ABYC). He is also listed on the BoatUS directory of Marine Surveyors for the Southern Chesapeake Region as well as the American Institute of Marine Underwriters (AIMU) directory as a Pleasure Craft Surveyor.

As a licensed captain with an oceans endorsement, Mr. McCann appreciates the need for equipment to perform under the harsh conditions of the sea.
As an engineer, he has acquired an ability to diagnose and repair most problems with diesel engines and associated shipboard hydraulic, electrical, and plumbing systems.
Mr. McCann continues to attend as many seminars regarding the rapidly changing boat building industry as time will allow. All surveys are based upon Federal and State Regulations, as well as standards proposed by the American Boat and Yacht Council in its publication Standards and Recommended Practices for Small Craft and the National Fire Protection Association (NFPA) publication 302, Fire Protection Standards for Pleasure and Commercial Craft.
Our location, in the mid section of the Chesapeake Bay, allows ease of access to the Middle Atlantic Community.  No matter whether its a pre-purchase, insurance condition and evaluation or damage claims, we will be happy to accommodate you in a timely fashion